WELCOME TO THE FIFTH ANNUAL EBIKE FUTURE con & Expo
ELEVATING THE GLOBAL EBIKE INDUSTRY!
THE ONLINE E-BIKE BUSINESS EVENT OF THE YEAR
SHOP BLACK FRIDAY DEALS NOW!
Join the world's brightest minds in ebike business and technology to learn, share secrets, and connect online. Our fifth annual Ebike Future Conference & Expo will stream information, consisting of relevant keynotes to inspire you and help take your business to the next level. This fantastic ebike business event will bring you closer to leading people and companies than ever before, from the comfort of your home or office. This is the Ultimate Conference for Ebike Businessmen, Innovators, and Enthusiasts! Join now so that you don't miss out!
WHAT TOPICS WILL WE COVER AT THIS VIRTUAL CONFERENCE
Business and Industry Trends
TECHNOLOGY, INNOVATION, AND DISRUPTION
SUSTAINABILITY AND ENVIRONMENTAL IMPACT
URBAN MOBILITY AND TRANSPORTATION
DESIGN AND USER EXPERIENCE
RETAIL TRENDS, FUTURE TRENDS, AND MUCH MORE!
At the Open Stage, everyone has a voice! It's a truly open platform where anyone can speak, and best of all, it's completely free! Share your insights, ideas, and passion with our community.
Ebike Future Con&Expo is an online event designed for busy people all over the world. It starts every day at 16:00 UTC Time, making it accessible to a global audience. The daily program is approximately 2 hours long, allowing you to dive into the exciting world of e-bikes without committing your entire day. If you miss some of the sessions, you can watch the replays 24 hours after their release with the Free Pass, or for a full 21/365 days with the Premium Pass. This means you don't need to stay awake at night or cut your time during your work or family time. This year we run in a new format, in which you have the freedom to choose what interests you the most and skip any presentations that may not align with your preferences. In the meantime, you can explore our virtual Expo and discover interesting companies. It works on any device.

Our world-class speakers, representing different industries, and experiences, will share their passion, reveal their top knowledge and insights to push the boundaries of what you thought was possible for your business.
Our speakers are not just industry insiders; they are industry creators. This is your chance to learn from the masters, but it's also an opportunity to have your thinking challenged.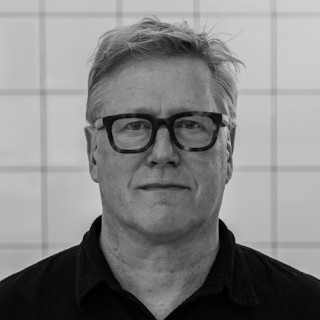 Executive VP, Specialized
Strategic Advisor AIMA EBIKES, Founder MUUVeBIKES, CRO & CFO OMNAE Tech
Managing Director, ExtraEnergy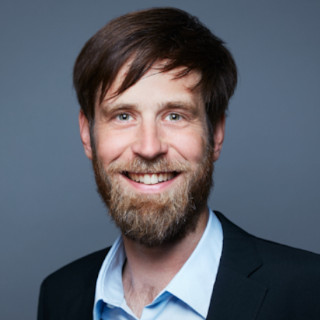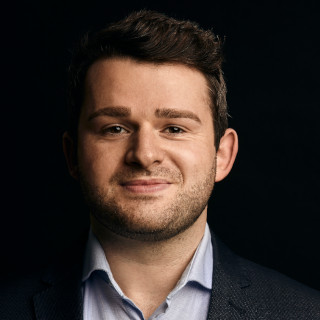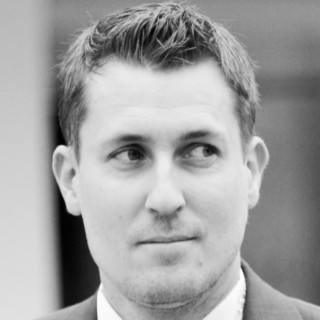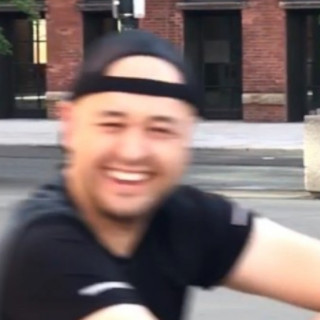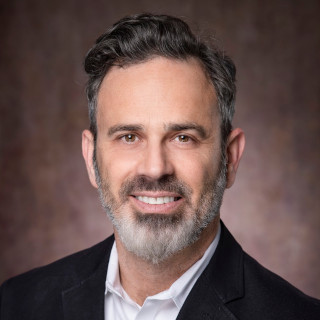 Executive Director, U.S. Joint Office of Energy and Transportation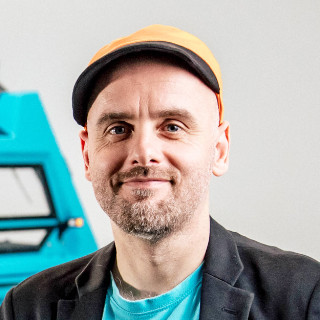 CEO / Co-Founder / Inventor, BeTRITON
Founder & CEO, Boreal Bikes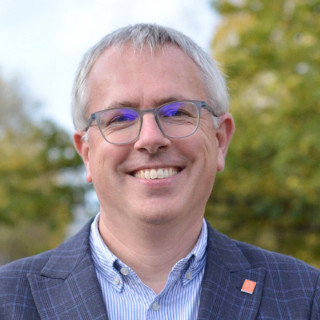 Marketing and Communication Manager at the Dutch Cycling Embassy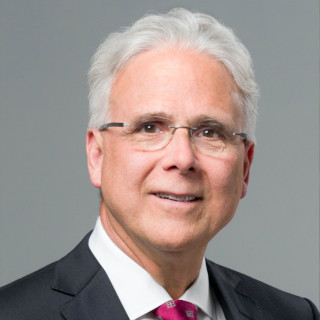 Executive Director of the Urban Robotics Foundation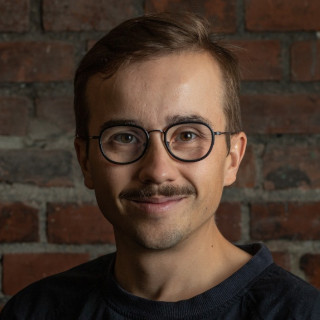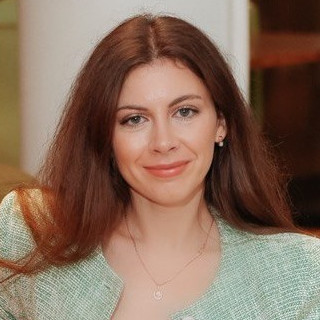 Co-Founder and CPO of Whizz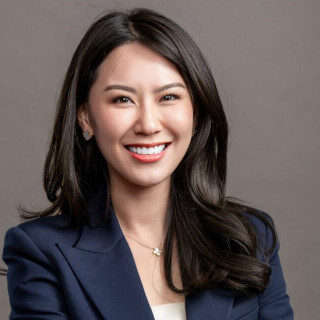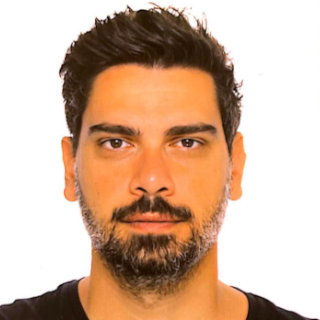 Co-founder and CEO, Dliwr Technologies
Technical Director, European & World Bike Industry Associations (CONEBI & WBIA)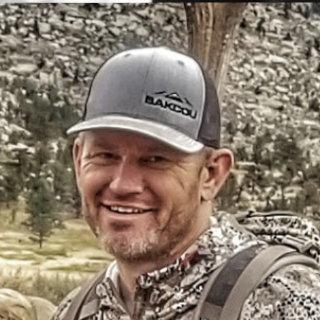 Founder and Chief Mobility Officer, Mobility Innovation Lab (MIL)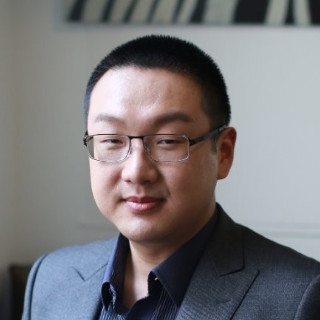 Project Supervisor, SGS Taiwan Ltd.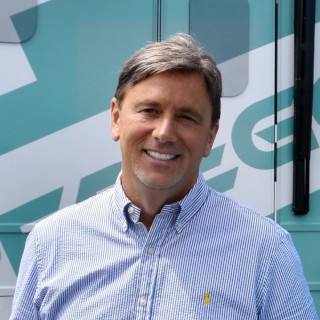 Investor and advisor, Experience Ventures
Key Account Manager at GPS Tuner Systems Kft.
Our past speakers represent a diverse spectrum of backgrounds, ranging from industry superstars to up-and-coming innovators. We've been privileged to host renowned figures from leading companies, as well as visionaries from dynamic startups. Each speaker has brought their unique insights and expertise to the Ebike Future Conference, contributing to our shared mission of advancing the ebike industry. Explore the luminaries and trailblazers who've graced our stage in the image below.
What our 2021 speakers said
The Ebike Future Conference draws attendees from established industry leaders, as depicted in the image below, as well as newcomers to the ebike industry and business.
RidE Towards the Future: Join Our Conference to Accelerate the EBike Revolution!
BUY YOUR TICKET EARLY FOR A HUGE DISCOUNT!
The Ebike Future Conference commenced in 2019 as an online event, a format we continue to believe is the most effective means of acquiring knowledge, sharing information, and implementing sustainable practices on a broad scale. Moreover, it aligns seamlessly with our commitment to environmental sustainability, making it the most eco-friendly choice.
Worldwide Easy Access – no matter if you are from Europe, USA, Australia, China, India or other parts of the world. Everybody has the same access to the event. With our replay options, you don´t need to stay awake at night, you can watch the program in your optimal time
Save time and money – No need to travel, book hotels, stress out and have other complications. Join from the comfort of your home or office
Fraction of the cost of an in-person ticket
Virus-Free – You can´t get coronavirus in the online environment, you don´t need to wash your hands, have any other restrictions
Go Green and save CO2 – Save the environment by not travelling, not staying at the hotel, not printing papers or any of the old-school stuff
More Value for Exhibitors – Be effective – exhibit with modern technology and get more new leads. Don´t waste the time of your employees saying the same things all over again. Do it with a one-time recorded video
Front row seat view – watch the speakers as if you were right in front of them. Have the best view and the best sound
Learn on-demand – browse content at your own pace and select only the topics, speakers and presentations that you want 
Time effective – you don´t need to sit at the conference the whole day. You can be at the launch, but after that the presentations will be available for watching later 
Visit the Expo and connect  and do business with the best companies in the space – you are not limited by time – Expo will be open for more than 3 weeks! 
Implement what you learn immediately – there is no need to travel and wait when everything is over. Work and implement immediately.
Attending a virtual event generates 100 times less Co2 than an in person event. By doing this we reduced our online carbon footprint by ~97%. Attending this event equals Co2 emissions to having just two and a half cafe-lates.
Discover the game-changing difference between in-person and online attendees. Unlike traditional events, skipping a keynote presentation online is a breeze. That's why we've last year introduced the incredible Online Expo!
Explore a virtual directory of fascinating companies, delve into their enticing virtual booths, watch captivating videos, access product information, and even connect with them directly.
And guess what? You can showcase your own business too, all at a fraction of the cost of an in-person trade show. Don't miss out on this revolutionary opportunity! The Ebike Future Virtual Expo is a game-changer for exhibitors. It's not only cost-effective, eliminating the need for pricey travel and physical booths, but it also offers a vast global reach. Participate from anywhere, reducing logistical hurdles and saving time. The platform provides insightful data on attendee behavior, amplifying your marketing strategies.
Enhance your brand's global visibility in the e-bike industry, all while contributing to sustainability by minimizing physical travel and resources. The expo's flexible and customizable format ensures you meet your business goals efficiently. Plus, with automated video features, deliver a consistent message without your people being tied to a booth. Choose the Ebike Future Expo for a modern, efficient, and impactful exhibition experience.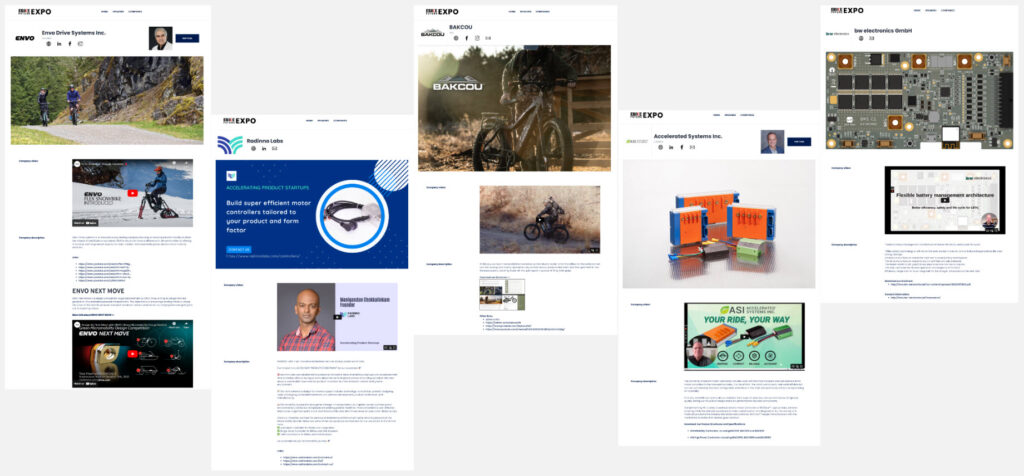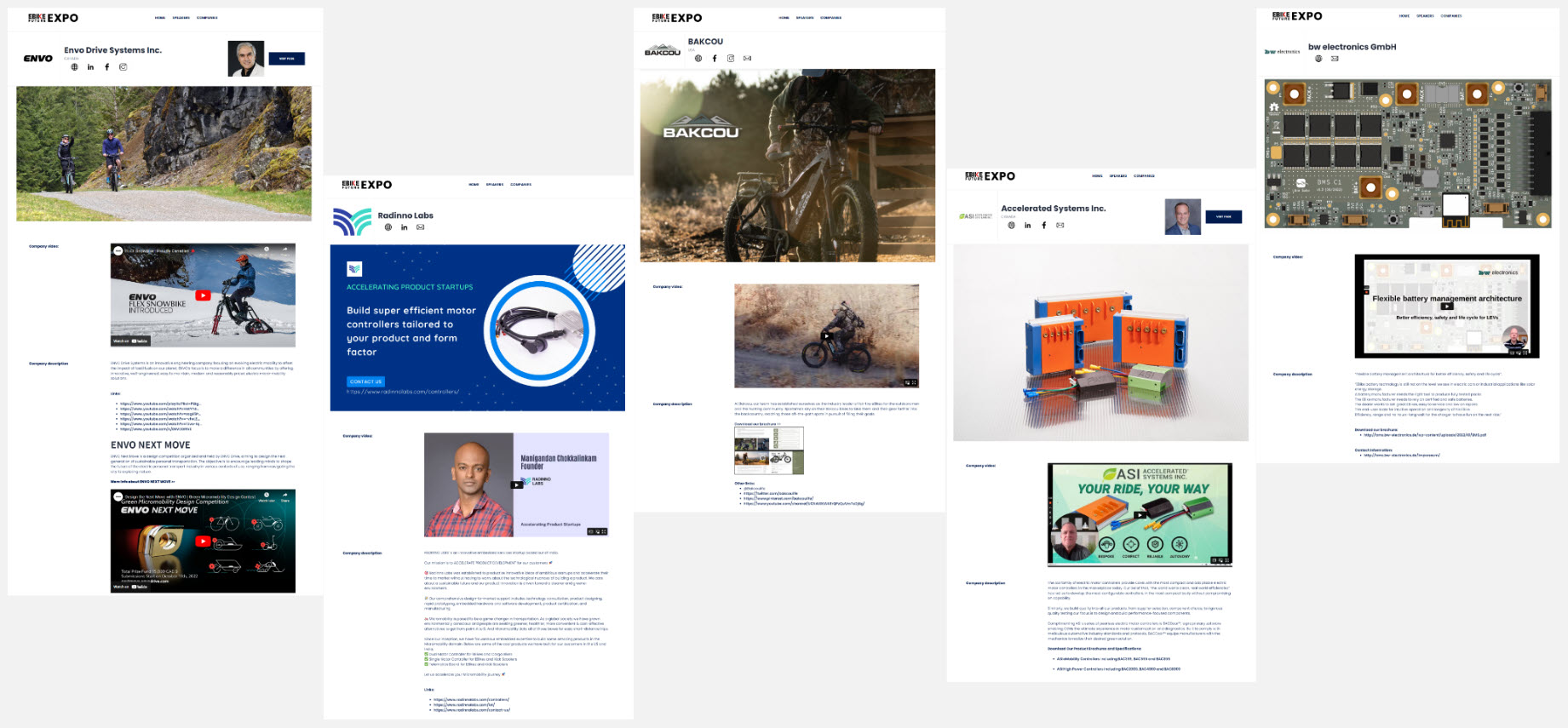 WHAT ATTENDEES SAY ABOUT OUR EVENTS
This conference is important!
This will be the main show moving forward relative to industry info - great job!​
I found the entire conference highly informative and inspirational. Further, it left me with a sense that there IS hope for future world without reliance on fossil fuels and its catastrophic impact on our climate.
Way more informative and valuable than expected. Beautifully thought out and arrange categories of information. Will gladly spend time going through all several time for myself and with those I want to inspire. Thanks you for this super valuable amount of material. You have given me a vast amount of value and much of which I would not have had time to glean on my own. Thank you!
I didn't get to watch all of the sessions, but the ones that I did I felt were very information-packed and interesting. There were lots of different aspects addressed, different segments of the market represented, some very practical advice and concise takeaways, as well as some forward-looking inspiration...all in all a very useful conference and one I look forward to growing and engaging with every year! Well done!
Overall I liked the conferences, both the presentation of a subject by individual speakers and the dicussion among 4-5 participants. You have invited authentic experts and not the marketing department or an agency. That was very refreshing.
I can say that you guys have conducted sessions that provide great data and inspiration more importantly. I even came up with new ideas that I am working on with passion now. Thanks a lot for this opportunity. I am already looking forward to the next one.
Great to listen and to be able to listen the next day in your own time. Looking forward to listen next year! Great job! Thank you for all your hard work to invite and to hold this econference.
I thought the conference was great and as someone new to e-bikes it helped me get a better idea of the concept and the global market for e-bikes.
Aren´t you sure if the Ebike Future Conference is for you? Watch samples from the Official Recording for FREE!
Gain valuable insights from the top global ebike business and technology experts!
Register in advance and get the best deal on tickets!
Our Vision: We aim to be the #1 global platform and the definitive source for information, innovation, and business opportunities in the ebike industry.
Ebike Future is the #1 global platform for ebike companies to collaborate, learn, innovate, and thrive. We're at the forefront of transforming the ebike industry into a new era.
In a world that craves more efficient and superior ebikes, where the ebike industry will grow 10X, we're here to expedite innovation and production, propelling this industry to new heights. Our mission is to ensure that the ebike sector can stand shoulder to shoulder with other prominent industries.
Think of us, at this juncture, as akin to TED for the Ebike Business. Yet, envision in the near future a platform enhanced by virtual reality, where business, learning, and networking occur just as seamlessly as in in-person events.
What are the most significant advantages?
Global Accessibility and Speed: Accessible from anywhere in the world, entirely online.
Eco-Friendly: Reduce carbon emissions by up to 95% compared to traditional in-person events.
Welcoming to Newcomers: A platform that welcomes and nurtures newcomers in the ebike industry.
Join us in shaping the future of electric bicycles!
Stefan Ceman aka Ebike Steve, is a seasoned professional in the bike, ebike, and automotive industry with over 30 years of experience. Since 2012, he has dedicated his work solely to ebikes. Stefan's accomplishments include co-founding the world's first 3D printed aluminum enduro ebike, owning an ebike shop where he sold millions of euros worth of ebikes, and servicing thousands of them. After selling his shop, he embarked on a consulting journey, assisting other business owners in starting, growing, and increasing the performance of their ebike businesses. Stefan believes that the ebike landscape will undergo a complete transformation in the coming years due to advancements in technologies such as 3D printing, artificial intelligence, virtual reality, robotics, but also due to evolution of material science, and nanotechnology. On the demand side, the market for ebikes is booming, and there is an urgent need to address environmental concerns. Stefan predicts that these factors will converge and revolutionize the ebike business in a few short years. He firmly believes that ebikes will significantly change the world for the better. Website: https://www.ebikesteve.com