INFORMATION FOR Exhibitors
Why to exhibit at the Ebike Future Expo
Dates and Deadlines 
Exhibiting online vs. in-person 

What is a Virtual Booth & its Content 

Virtual Booth Examples 

Who is the audience 
Who will create your Virtual Booth 

Additional marketing options 
1. Why to exhibit at the ebike future expo
Exhibiting at the Ebike Future Virtual Expo offers numerous advantages for your business: 
Cost-Effective: Save on travel and accommodation expenses associated with traditional in-person events.
Save on physical Booth creation: You don´t need to create expensive booths
Global Reach: Reach a diverse and international audience of potential customers.
Convenience: Participate from anywhere, reducing logistical hassles and time constraints.
Data Insights:

Gather valuable data on attendee behavior and interests to refine marketing strategies.

Brand Visibility: Enhance your brand's visibility in the e-bike industry on a global scale.
Efficient Resource Allocation: Optimize resource allocation for a more effective exhibition effort.
Reduced Environmental Impact: Contribute to sustainability efforts by reducing the need for physical travel and materials.
Flexibility: Customize your virtual booth and presentations to suit your business objectives and target audience.
Automation: With automatic video playing you don´t need to be present at the booth and speak the same sentences all over. 
Submit your Virtual Booth Information from Now until November 12, 2023
Booth Approval – Now – November 12, 2023
Expo (and the Conference): November 14-16, 2023
3. Exhibiting online vs. in-person
Virtual exhibiting is quite similar to being at an in-person event. Here's how it works: Think of it just like you would if you had a physical booth at a trade show:
You have your booth, which is like your own little space with banners and your products.

Someone from your company talks to people who come by to explain what you offer.
You also have brochures, materials, and maybe even your actual products on display.
People come to your booth, you chat with them (often saying the same things all day), have discussions, and if someone is really interested, you might set up a follow-up meeting or get their contact information.
Now, in the virtual world – Your booth is like a webpage, and it has:
A banner at the top to catch people's attention, just like the banner on your physical booth.
An introductory video that plays automatically for everyone who visits. This video says the same things you would say in person, introducing your company and your latest product. For example: "Hello, I'm Luke, and our company, R&M, is great at recycling and reusing materials. Our newest product is this special injection-molded carbon fiber frame, which… and so on. Please take a look around our virtual booth where you can find brochures, more videos, product info, and how to get in touch with us. Make sure to drop us a line at info@yourwebsite.com"
Brochures, PDFs, more videos (like product demos), text information, and ways to contact you.
The end result is the same: People come to your virtual booth, see the big banner, watch the video, and if they like what they see, they can read more and easily get in touch with you.
4. What is a virtual SUPER booth & its Content
Virtual Super Booth is a one-page website with all the information about your company – including contact information, videos, images, downloads, … Expo visitors can find you in the Directory and visit your booth.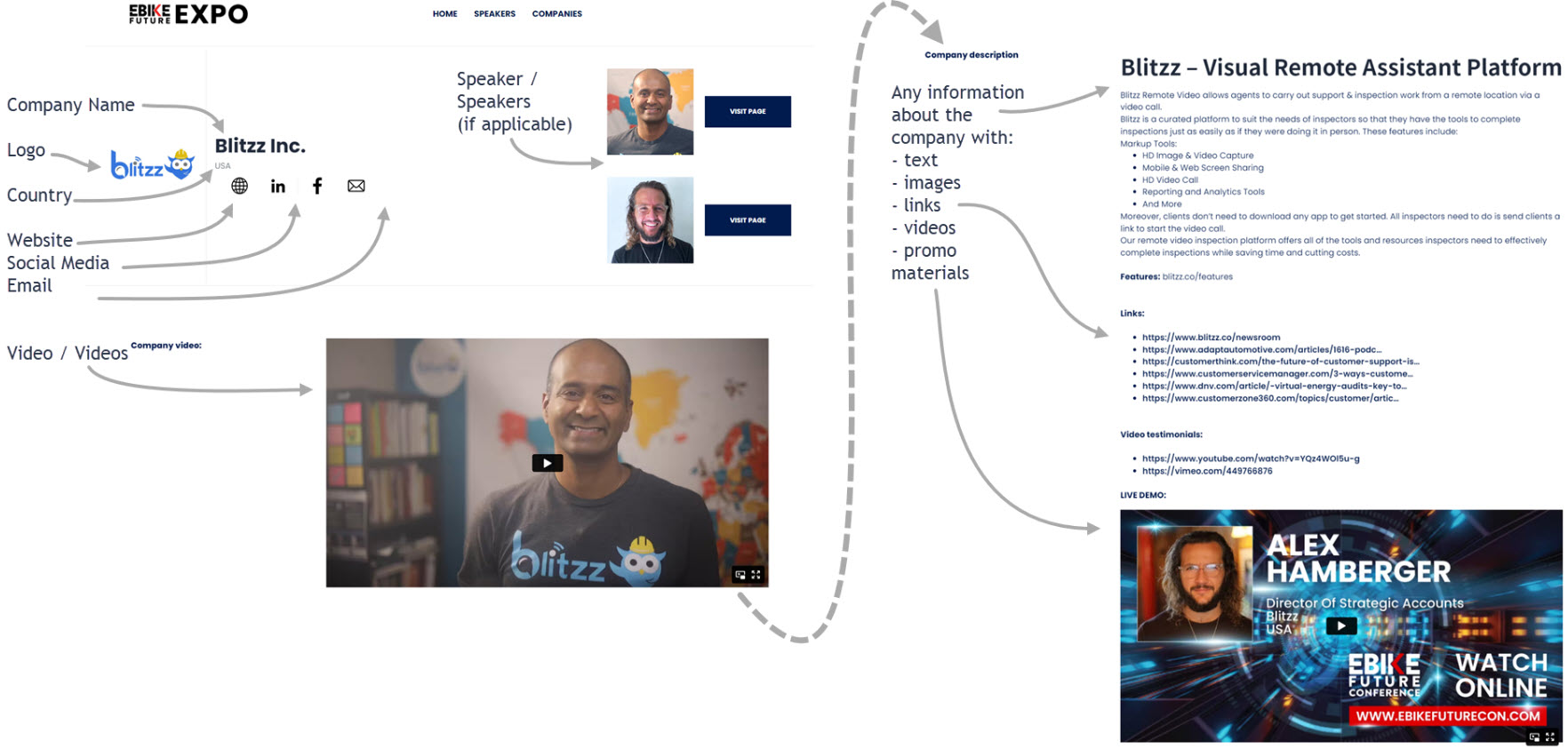 5. Virtual Booth Examples
The design of your virtual booth is customizable – you can add your own content, say what you want in your videos.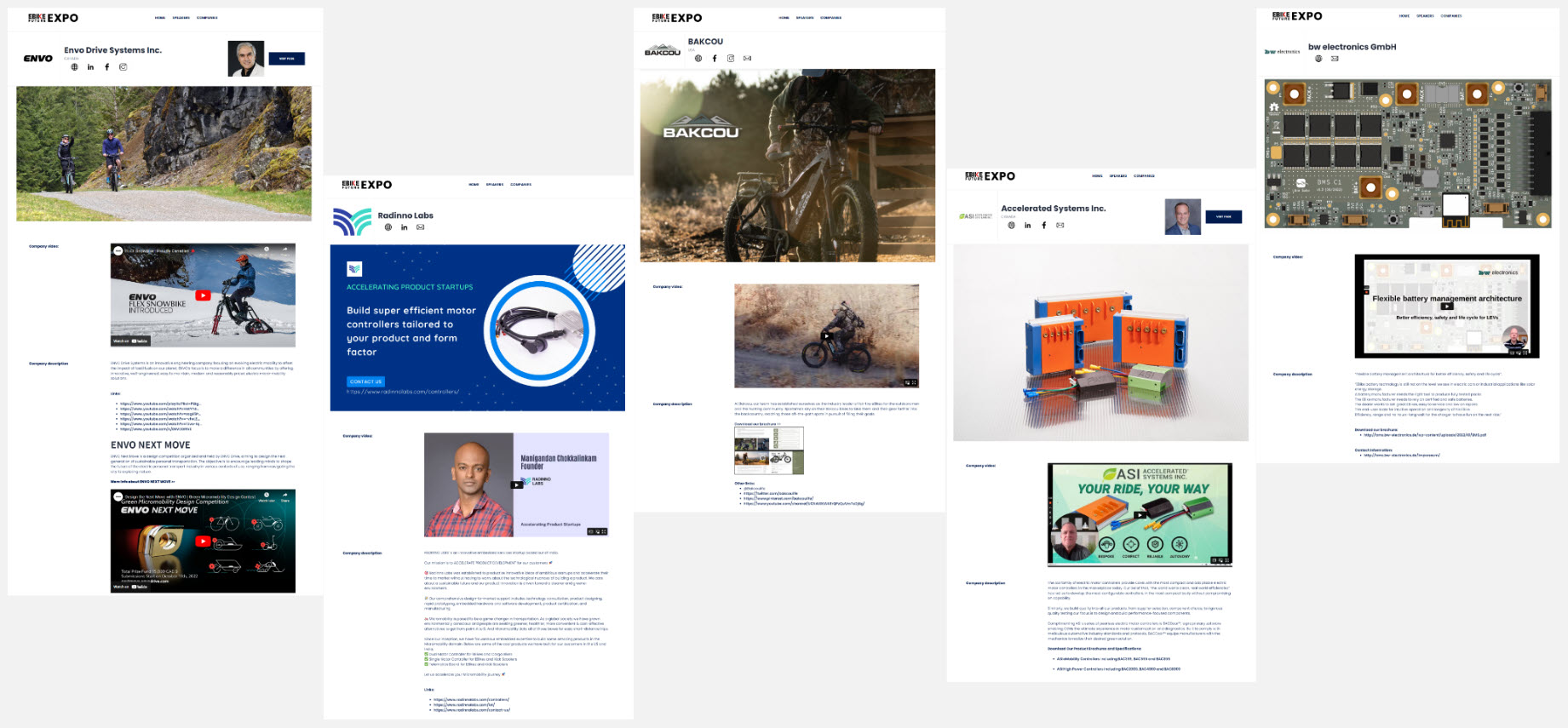 Our audience can be divided in these groups:
Bike/ebike industry
Otner industries – for instance newcomers 
Enthusiasts 
More info:  

When it comes to the company attendees, they come from companies such as: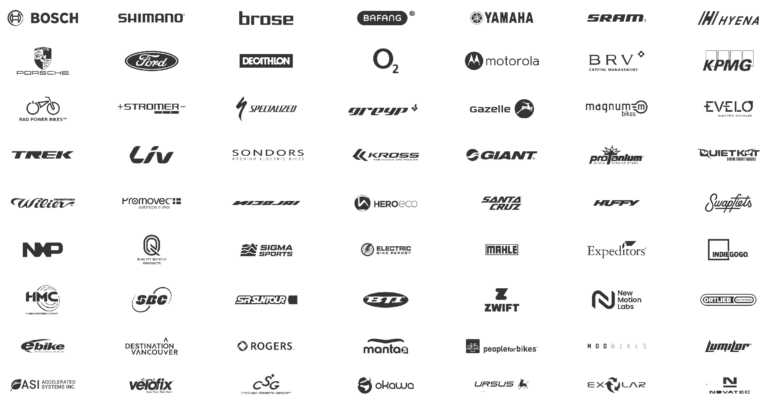 7. Who will create your Virtual Booth
We will create the Virtual Booth for you. You just submit your information into a simple form. 
After we create your booth, we will send the link to you for approval. After approval we will make it accessible to the audience. 
8. Additional Marketing Options
Your journey begins with creating your virtual booth, but to elevate your presence even more, we offer a range of additional marketing options:
Featured Company Listing: Gain exclusive visibility by securing a coveted spot in our Featured list, where only selected companies are showcased.
Tailored Social Posts: Craft dedicated social media posts tailored to your brand, delivering a powerful message to your industry or target audience.
Precision Targeted Ads: Amplify your reach with targeted advertisements on your posts, reaching specific countries, groups, and demographics.
Email Inclusions: Extend your reach further by having your advertisement or information included in our email communications.
Video and Advertisements: Showcase your video or advertisement before select presentations or even across all presentations, ensuring maximum exposure.
And that's just the beginning. Our virtual event is highly customizable to suit your needs.
Additionally, you have the power to augment your presence on your end. Promote your participation across your social media channels, encourage people to visit your booth, and engage with your email list. Demonstrate your prominence at the premier global eBike business event and emphasize your invaluable role in the industry.